Smart Factory
Automating a warehouse system is a key component of being competitive in the marketplace!

A state-of-the-art automated storage and retrieval system was introduced to large logistics complexes and automated warehouses of large corporations,

and we successfully developed and produced the TA series, which is an automated raw material warehousing and retrieval system designed specifically

to support warehousing, shipping, and storage of flat raw materials.

Thanks to the TA series, which uses pure domestic technology, it is now possible to offer a complete solution for safety, service, and reasonable prices

for automated warehousing systems for raw materials. This field was previously monopolized by a relatively small number of foreign companies.

By installing the TA series, we are able to maximize the use of available factory space (blind spots, empty spaces, etc.) while ensuring the safe

movement of forklifts and other moving equipment. The storage and delivery of raw materials has been automated through the processing of

computerized raw material information and automated RACK systems.

By using these methods, workers are able to work more efficiently, manufacturing processes can be rationalized,

productivity can be significantly improved, and waste can be minimized.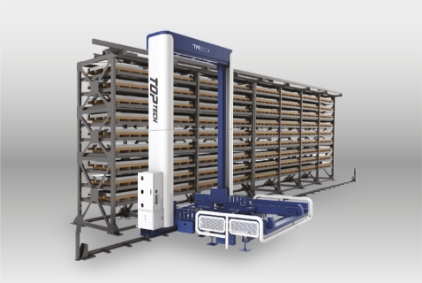 Smart factory

A direct link between systems such as production management, production data management, ERP,

and manufacturing execution system (MES) facilitates rapid and efficient processing of work details,

including raw materials, work status, and work details.